I found this fabric panel at Hobby Lobby and i fell in love with it. (Fabric panels are a pattern printed on a roll, like regular fabric, only instead of a design it is a repeating patter that can be cut out and then put together to make different things- such as aprons, plush books, stuffed turkeys, etc) I also purchased 2 of these in the adult size, one for me and one for my mom- once i told her about the aprons, she wanted one! Both sizes have the recipe for Gingerbread cookies printed on the front of them!
I didn't completely follow directions- i skipped the pocket and didn't do the appliques, but i still think its cute. And i don't think the younger ones really need a pocket lol! Also, i added an extra layer of fabric to the back of the bodice of the apron, a dark red marble cotton fabric.
Apron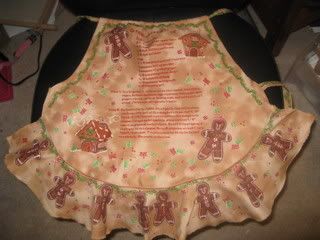 Modeled by Pooh Bear
Back w/extra fabric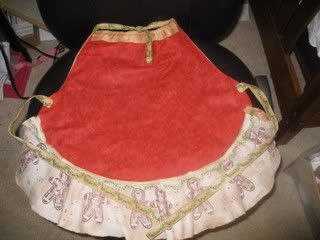 Its nice to have one out of what feels like five million projects off of my to-do list! :)
I'll try to get some action shots when my baby wakes up.
As always comments and questions are appreciated! :)
Blessings,
Tina